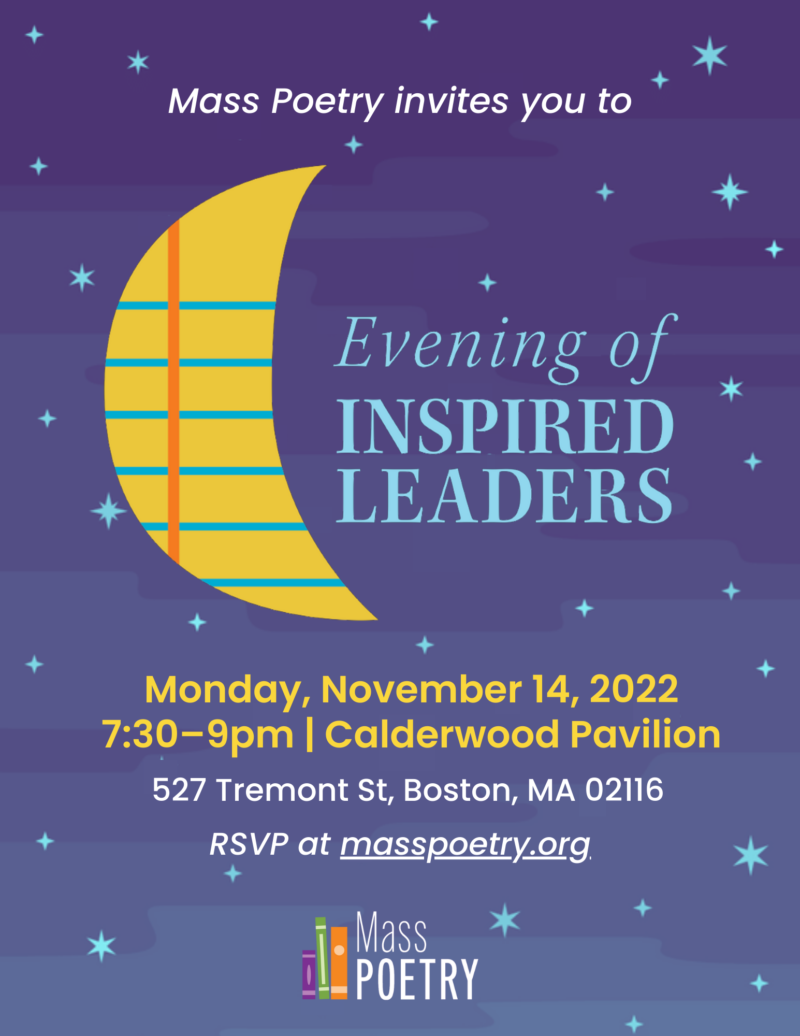 This event has passed. See you again at Evening of Inspired Leaders 2023!
We are proud to announce Mass Poetry's eighth annual Evening of Inspired Leaders, an event that brings together exceptional leaders from diverse fields to each read their favorite poem and reflect on its connection to their life and work. We are now planning an in-person and live-streamed event, which will take place on Monday, November 14th, 2022 from 7:30 – 9 PM EST at Calderwood Pavilion at the BCA, 527 Tremont Street, Boston, MA 02116.
This year's Evening of Inspired Leaders promises to inspire and uplift our community, emphasize the importance of words, and showcase the leadership of a diverse group of luminaries. Don't miss this magical night!
As Mass Poetry's biggest fundraiser of the year, your support is essential and embraced. Help us bring this event to life by becoming a sponsor today!
Our virtual live-stream of the event can be viewed here on our YouTube channel! The video will go LIVE at 7PM EST.
---
2022 featured speakers include…
Lee Pelton | President & CEO, The Boston Foundation
Michael Bobbitt | Executive Director, Mass Cultural Council
Dr. Kimberly Frazier-Booth | Instructor, Edward M. Kennedy Academy for Health Careers
Dr. Jennifer Childs-Roshak | President & CEO, Planned Parenthood League of Massachusetts
Assaad J. Sayah, MD | President & CEO, Cambridge Health Alliance
Bill McKibben | Author, Educator, Activist, Founder of Third Act
Michelle Garcia Fresco | Poet & Programming Director, Elevated Thought
micah rose | Pamangkin & Storyteller, Co-Director at Arts Connect International
Dan Chiasson | Poet and Professor of English, Wellesley College
Josie Colon | Teen Council Member, Mass Poetry
Rupa Shenoy | Host, Reporter & Emcee, WBUR-FM (90.9)
Acoustic Nomads | Musical Ensemble

Read the speakers' selected poems here!
---