In light of recent events, this week's issue of The Hard Work of Hope will be a little different. We are always trying to offer poems that meet the moment, and the current crisis in Haiti—along with its long history of instability and the United States' involvement in it—demands a special response. This week, we bring you a folio of six poems that speak to the Haitian experience, curated and introduced by Danielle Legros Georges:
In the poem "Hard Work," Kathleen Aguero has us consider the pathways by which hope travels "before it gets to that bubbling place," that site where it springs eternal. Hope, she writes "forces itself through miles of dirt packed hard/then around, over, under rocks." An act of determination, hope wills itself "not to dry up in the desert."
Surely such sturdy hope guided the Haitian migrants who recently made their way to Acuña, Mexico and the Texas border town of Del Rio. Many arrived after perilous months-long journeys across South America, some beginning as far as Chile. A news image of a line of people wading across the Rio Grande River evokes the Biblical, while photographs of the aggression that met them, meted by U.S. federal agents on horseback, telegraph the inhumane.
"No one leaves home" notes poet Warsan Shire, "unless/home is the mouth of a shark."  In the poem "Home," Shire enumerates the reasons that make refugees:  
no one leaves home unless home chases you
fire under feet
hot blood in your belly
it's not something you ever thought of doing
until the blade burnt threats into
your neck
Such metaphors as exist in her poem apply to much of the history of U.S. immigrants, from the experience of the Puritans to that of the Afghans. The Haitians who gathered at the border articulated the unsustainability of life for them in a country reeling from poverty, natural disasters, security concerns, human rights abuses, and long-standing political instability (underscored most recently by the assassination of the Haitian president in July). Some fled as a result of the gang violence that has pervaded Port-au-Prince. Many left Haiti after the devastating 2010 earthquake and cannot imagine being repatriated to a country whose conditions are exponentially worse than the ones that caused their departures.
Scholars and observers of Haiti correctly point to legacies of Western imperialism and colonialism accompanied by home-grown corruption as lenses through which the root causes of Haitian exoduses can be viewed. Interventions by the United States in Haiti—from a 1915 invasion and occupation, to the propping up of Haiti's most recent leaders—have played a significant role in Haiti's precariousness.
The situation at the Texas border revealed a humanitarian crisis, one that threatens the health, safety, and lives of a group of people. The Haitians at the border should be seen as freedom seekers, whose basic stories are not unlike those of most U.S. families, whether arriving here in 1620,1845, or 1990. These Haitians deserve asylum hearings—and the hope that comes with the possibility of better lives here.
I am glad for the voices of Jean-Dany Joachim, Jean-Claude Martineau, Lenelle Moïse, Patrick Sylvain, and Tontongi, writers with Massachusetts connections, Haitian roots, and histories of socially-engaged work. Their poems appear below, along with one of mine. These poets contribute to my education in the Haitian experience; in Haitian courage, resistance, and hope.
Each of the poems is followed by a link to a further reading.
To support Haitian asylum seekers, contact your Congressmember(s) at 202.224.3121.  To support relief efforts, visit Diaspora Rising Earthquake Relief Efforts by Haitian and Diaspora led Organizations
POETRY FOLIO
quaking conversation
Lenelle Moïse
i want to talk about haiti.
how the earth had to break
the island's spine to wake
the world up to her screaming.
how this post-earthquake crisis
is not natural
or supernatural.
i want to talk about disasters.
how men make them
with embargoes, exploitation,
stigma, sabotage, scalding
debt and cold shoulders.
talk centuries
of political corruption
so commonplace
it's lukewarm, tap.
talk january 1, 1804
and how it shed life.
talk 1937
and how it bled death.
talk 1964. 1986. 1991. 2004. 2008.
how history is the word
that makes today
uneven, possible.
talk new orleans,
palestine, sri lanka,
the bronx and other points
or connection.
talk resilience and miracles.
how haitian elders sing in time
to their grumbling bellies
and stubborn hearts.
how after weeks under the rubble,
a baby is pulled out,
awake, dehydrated, adorable, telling
stories with old-soul eyes.
how many more are still
buried, breathing, praying and waiting?
intact despite the veil of fear and dust
coating their bruised faces?
i want to talk about our irreversible dead.
the artists, the activists, the spiritual leaders,
the family members, the friends, the merchants
the outcasts, the cons.
all of them, my newest ancestors,
all of them, hovering now,
watching our collective response,
keeping score, making bets.
i want to talk about money.
how one man's recession might be
another man's unachievable reality.
how unfair that is.
how i see a haitian woman's face
every time i look down at a hot meal,
slip into my bed, take a sip of water,
show mercy to a mirror.
how if my parents had made different
decisions three decades ago,
it could have been my arm
sticking out of a mass grave
i want to talk about gratitude.
i want to talk about compassion.
i want to talk about respect.
how even the desperate deserve it.
how haitians sometimes greet each other
with the two words "honor"
and "respect."
how we all should follow suit.
try every time you hear the word "victim,"
you think "honor."
try every time you hear the tag "john doe,"
you shout "respect!"
because my people have names.
because my people have nerve.
because my people are
your people in disguise
i want to talk about haiti.
i always talk about haiti.
my mouth quaking with her love,
complexity, honor and respect.
come sit, come stand, come
cry with me. talk.
there's much to say.
walk. much more to do.
Copyright © 2014 by Lenelle Moïse, from her poetry collection Haiti Glass (City Lights Books).
READ "A Call to Action: Justice for Haitian People at the U.S. Border" statement supported by the Haitian Studies Association 
This Evening, I Will Not Cry for My Dead
Jean-Dany Joachim
This evening, I will not cry for my dead
I'll instead launch their names into the sky
I'll tear off the stars one by one
And paste in their place the wide-open eyes of the departed.
Let their gaze strike this earth
Gorged with bodies and sweat
And all it hides in its entrails
Let these gazes become lightning, new suns and new moons.
My dead will not see me cry this evening
I'll sing instead chants of Ibo, Yanvalou, Petwo
Let the tomtoms wake up for the resurrection
Of these souls ripped from life so soon
I'll not write a single word of death
I call instead for an earthquake of life
To shake the souls in pain
I call on the budding of hope

I give my tears in exchange for life
I will not cry at all for my dead…
Copyright © 2010 by Jean-Dany Joachim, from Poets for Haiti: An Anthology of Poetry and Art; editor, Kim Triedman.
READ "Earthquake Relief Efforts by Haitian and Diaspora led Organizations" by DiasporaRising
Poem for the Poorest Country in the Western Hemisphere
Danielle Legros Georges
O poorest country, this is not your name.
You should be called beacon. You should
be called flame. Almond and bougainvillea,
garden and green mountain, villa and hut,

girl with red ribbons in her hair,
books under arm, charmed by the light

of morning, charcoal seller in black skirt,
encircled by dead trees. You, country,

are merchant woman and eager clerk,
grandfather at the gate, at the crossroads
with the flashlight, with all in sight.
Copyright © 2010 by Danielle Legros Georges, from The Dear Remote Nearness of You (Barrow Street, 2016).
READ "Why Representations of Haiti Matter Now More Than Ever" by Gina Ulysse
Rope Jumping
Patrick Sylvain
I sat on a boulder
By a beach near Saint-Marc,
The small province to the north of Port-au-Prince,
Watching two boys, about 14,
Underneath a flame tree
Fiercely swinging a thick dark brown rope
On a soft creamish dirt road.
Five girls lined up to take turns,
They jumped fearlessly, holding
The bottoms of their skirts.
"Yon dous, yon cho," one soft, one peppery.
They played under a large flamboyant tree
Avoiding the burning rays of the tropical sun.
Their voices and laughter rose
Resonated like a flock of migrating birds.
Their cadence and agile feet
Transported me to my youth
And the burning joy I felt 
When jumping with the girls.
Glistening thighs, firm feet, quick eyes
And the slight touches of the opposite bodies
When playing doubles carried us to a zone
Our parents had traveled and feared. 
We were innocent and dangerous.
Our gender differences became the dividing line. 
We later took pleasure at watching the girls' legs
And their solid thighs underneath their flying skirts.
Occasionally, they let us turn the ropes.
And those of us with racing hormones
Became the bad boys' placards. 
"Yon dous, yon cho," one soft, one peppery.
I wonder what those boys were thinking
As they swung the ropes
For those athletic-bodied girls!
Copyright © 2005 by Patrick Sylvain, from Love, Lust, and Loss (Mémoire D'encrier, 2005).
READ "To Rebuild Haiti After This Earthquake, We Must Empower Haitians," by Pierre Noel and Karen Ansara
Pseudo-Haiku for Immigrant Haters
Tontongi
You say Go Home! I say Go Home Too!
We all come from a nether space of despair.
I say Let's All Together Come Home!
Copyright © 2013 by Tontongi, from In the Beast's Alley (Trilingual Press, 2013).
READ "The Delusion of Borders:  On Migrants, Abundance, and Manufactured Scarcity" by Roxane Gay
Vjewo
Jean-Claude Martineau
In the middle of a cane field near Higuey
In the Dominican Republic
Two Haitians sit in a batey
Bare feet, bare backed
One speaks, one heeds
So softly
Only the wind through the cane hears
What they say
Vyewo, you going home to farm in Haiti
Take this parcel to my wife for me
A pair of earrings and ten
Pesos, Vyewo
When you get there, if you find her
Settled down with someone else
Give them to my mother for me
Vyewo set off, Vyewo returned
With news that burned the heart
The mother had died
Some years before
A broken heart
They say
The wife was still there, still hanging on
The kids needed more, the first one grew wild,
The small one didn't know his father at all.
In the middle of a cane field near Higuey
In the Dominican Republic
Two Haitians sit in a batey
Bare feet, bare backed
One speaks, one heeds
So softly
The wind through the cane hurries
To erase what they say
Cousin, I've come from working the earth in Haiti
Here's the message your wife sends you
It's time for you to return, Cousin
Even if your hands are empty, Cousin
And remember, Cousin, when you cross the border
Don't leave your machete behind.
"Vyewo" Copyright © 1991 by Jean-Claude Martineau, from Pwezi, Kont, Chante (Edition Libète).
Translated from the Haitian Creole by Danielle Legros Georges
READ "The High Human Cost of America's Sugar Habit," by Sandy Tolan with Euclides Cordero Nuel; Photos by Pedro Farias-Nardi
---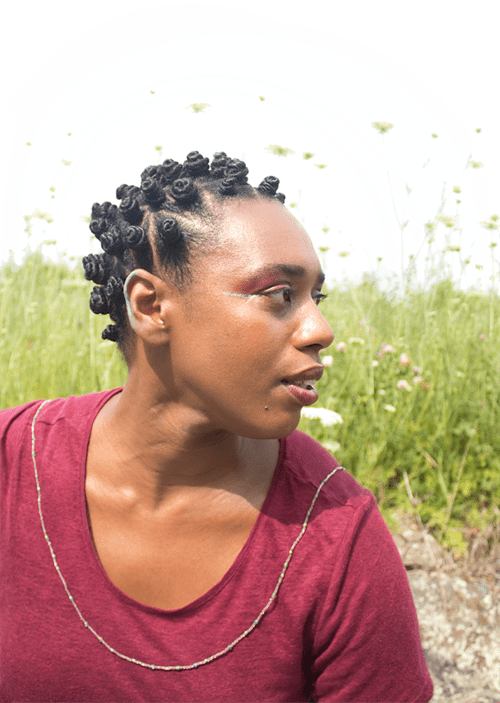 Lenelle Moïse is the author of Haiti Glass (City Lights Books, 2014). She is a poet, playwright, song-maker and screenwriter. Please visit http://www.lenellemoise.com for more information.
---
Jean Dany Joachim is a poet, fiction-writer, and playwright. He has four published collections of poetry and a play, Chen Plenn (2007), Crossroads / Chimenkwaze (2013), Avec des Mots (2014), Quartier (2016), and Your Voice Poet / Ta Voix Poète (2017). He created the Many Voices Project, inspiring conversations about race and equality, and he's director of City Night Readings, a series featuring diverse poetic talents. He is an adjunct professor at Bunker Hill Community College, and he serves on the Board of the New England Poetry Club.
---
Born in Gonaïves, Haiti, Danielle Legros Georges is the author of several poetry collections including The Dear Remote Nearness of You (Barrow Street, 2016) and Island Heart, translations of the poems of the Haitian-French writer Ida Faubert (Subpress Collective, 2021). Legros Georges directs Lesley University's MFA Program in Creative Writing. She served as poet laureate of Boston from 2015 through 2019.
---
Patrick Sylvain is a Haitian-American poet, writer, photographer, social and literary critic who has published widely on Haitian, Haitian diaspora culture, politics, language, and religion. He is the author of several poetry books in English and Haitian, and his poems have been nominated for the prestigious Pushcart Prize. He is published in several anthologies, academic journals, books, magazines and reviews including: African American Review, Agni, American Poetry Review, Callaloo, Chicago Quarterly Review, Ploughshares, Prairie Schooner, Transition, and The Caribbean Writer.
---
Eddy Toussaint Tontongi was born in Port-au-Prince, Haiti, and lives now in Watertown, MA. Poet, literary critic, and essayist, he writes in Haitian, French and English. Tontongi's latest books include Tyaka Poetica, a bilingual collection of essays, memoirs and poems (Trilingual Press, Cambridge, MA, 2021); La Parole indomptée / Memwa Baboukèt ("The Untamed Speech / Memory of The Muzzle,"), published by L'Harmattan, Paris, France, 2015; In the Beast's Alley, a collection of his "poems of conscience", (T.P., 2013). The author is working currently on a collection of chronicles and memoirs of life in the United States. Tontongi is the Editor-in-Chief of the publishing house Trilingual Press and the trilingual politico-literary journal Tanbou
(www.tanbou.com).
---
Jean-Claude Martineau is a poet, musician, writer, and activist.