When did you first encounter poetry? How did you discover that you wanted to write poems?

I've always thought of myself as a visual artist, not a writer. About seven years ago I was overcome with feeling while watching old family movies. Crying, exhausted, I lay down; and when I did, the first lines of my first poem came into my head. I wrote the lines down and then wrote some more and then found I couldn't stop writing.
Do you have a writing routine? A favorite time or place to write?

I have a painting routine but not a writing one. I carry around a little notebook so I can jot down words or images that come to mind. Once I commit to a poem I rework it until it feels right – or until I toss it.
Where do your poems most often "come from"—an image, a sound, a phrase, an idea?

My poems come from memories or observations. They are often attempts to document things important to me or understand why they happened. Usually I ruminate about a person or an issue for some time before a way to begin writing about it becomes clear.
Which writers (living or dead) have influenced you the most?
After high school I did not read much poetry, never trusting that I understood what the poet was trying to say. When a friend introduced me to the work of Billy Collins, my world opened up; and I felt a sigh of relief about my own (greatly inferior) poems. Not only are Billy Collins' poems accessible, they are also fun – great fun.
What excites you most about your new collection?
I like to think of my poems as very very very short stories about feelings and events many of us experience. I am very grateful to the people who heard or read my poems and let me know that they related to the poems and felt validated by them. And it makes my day when someone says they enjoy my sense of humor. We really do need to find things to laugh about these days!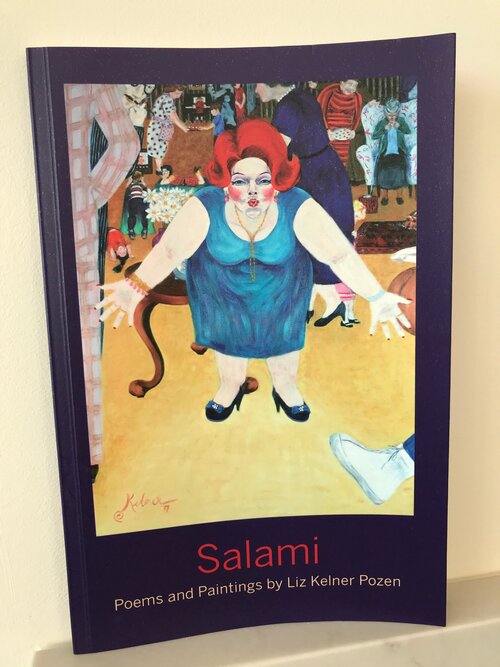 Crash Course
When I realized my daughter
was going to college
really leaving
not like an extended sleepover
I worried to near panic
that I had not given her
essential life lessons
and embarked on a crash course.
"Was she aware of the danger of combining water and electricity?"
My daughter said she was glad I told her this
as she had been planning to throw
her hair dryer into the bathtub.
"How about not wearing billowing clothes near an open flame?"
"What flame, since you never taught me to cook?"
she replied, rolling her eyes.
"Well, did she know never to help move furniture
for a stranger with a van?!"
"Mom", she said, "I saw that movie".
Reluctantly I stopped then
recognizing defeat
seeing I was way too late
knowing, with sudden clarity and pain
that I could no longer protect her
and possibly never really did
hoping she would forgive me in time.
If you are unable to purchase a copy of Salami at the link, copies are also available at the Bunch of Grapes bookstore in Vineyard Haven, MA or Bookstore1 on Main St in Sarasota, FL. Alternatively please reach out to the poet at lizkelnerpozen.com.
Liz Kelner Pozen is an artist and retired psychotherapist living in Boston.