Getting to Know Kristian Macaron, Author of Recipe For Time Travel In Case We Lose Each Other
When did you first encounter poetry? How did you discover that you wanted to write poems?
I still have the draft of my first (known) poem, which I must have written when I was about four before I could write letters on my own. It was about tigers and rainbows and seashells, which is…pretty on brand (and yet unpublished). My parents say that I've been writing stories all my life, but some of my favorite memories of being small are listening to stories my dad wrote for my siblings and me. They were elaborate stories about rainbows and snow ponies and mischievous cavemen that lasted for weeks of dinnertimes or bedtimes. 
As far as my love for poetry, I always loved to read poems and hear them, but it didn't truly capture me until college. In one creative writing class we read the poem "Deer Dancer" by Joy Harjo. To say that it took my breath away is an understatement. To date, it is one of my favorite pieces of writing. After reading "Deer Dancer" and "Song" by Brigit Pegeen Kelly countless times, I started trying to write poems of my own, never thinking they were any good, never letting them be fully realized, but I know that I fell in love with poetry then. I couldn't get enough of it, and even though I felt overwhelmed by the canon, I knew someday I would be able to figure it out, and I never rushed toward it but found my own voice slowly.
One semester, to get out of my comfort zone and to take a class with two of my best friends I took an acting class. I love theater and I adore playwriting, but acting is very difficult for me—I think, in the best way—but difficult nonetheless. What connected me to theater is the distilled writing, the poignancy of every single move or word or pause—it felt like poetry more than anything else, and having to write for that class is where I really found poetry on my own. In 2008, I participated in "Full Frontal Poetry," a play directed by Paul Ford. The performance was a crafted by the cast, an assemblage of pieces we wrote individually and collaboratively. The process of building this collaborative piece is what helped me to learn about what poetry could do. It could be exploratory, subversive, activist, illuminating and so much more. It helped me dive into poetry and to feel like it was really a place where I could stand and grow from. 
Do you have a writing routine? A favorite time or place to write?
I sometimes have a routine, but what I do have is a mental list of what I know will work for me. I write best in the morning, before I have done anything else in my day (except for making coffee). I work on one poem at a time, usually. I write a first draft and take a picture of it. Then, over the next several days, I will spend random minutes reading it, tinkering slowly in my head before I can get back to a new draft. I find that this works for me, to keep it in my head but not messing with anything until it's the exact right time. But, sometimes poems (and stories) don't always come completely at once. Sometimes, I need to wait for them to realize themselves and I let them get as strange or raw as they need to be. Then they come back to me with changed words, new images, realized forms that were never there before.
Where do your poems most often "come from"—an image, a sound, a phrase, an idea?
For me, it is usually images or sometimes an accidental conversation. Sometimes, an event. Writing is a cipher or unpacking for me, and in the beginning of things, I can't always explain the connections, but by the end of the poem, I know what it was meant for. Knowing how I am feeling about something is important for me, but one thing I love about being a poet is that I know others are going to see totally different things in my work.
Which writers (living or dead) have influenced you the most?
Joy Harjo and her work caused me to fall in love with poetry; she is still a poet I re-read constantly. The world-building of Ray Bradbury and JRR Tolkien made me want to study and write fiction. Some other important influences for my writing journey include Aracelis Girmay, Amy Hempel, Victor Lavalle, Jeff Vandermeer, Madeline L'Engle, and Quiara Alegria Hudes.
What excites you most about your new collection? 
I love that this book doesn't start or end in the same place. I love that it travels through time and I feel I have too. I started writing some of the poems in this collection as early as 2015, and at that time, in my mind, it was a going to be a study of volcanoes and the ecological impact of how the world shifts under us. I love learning about geology and physics, and I wanted to learn more about it on a scale of deep time by looking at the various stages of disaster, eruption and renewed earth. I eventually realized that was happening to me also, but not that it came through in my work until much later. Then, the poems I was writing morphed into something entirely different. I wasn't just writing about the earth, but the earth as a body, deep time and time travel, but more so about myself and my heart—learning to see myself through stages of recognition, voice, transformation and renewal. In retrospect, much of this was a study of spending time in the unfamiliar to allow what feels like disaster or quest to turn into a renewed understanding of strength, certainty and self-love.
I also loved the process of editing it with the team at Game Over Books. Every writer hopes that their work will find a press that believes in their work, and I found that more abundantly in Game Over Books then I ever imagined. They are an incredible press with an impressive catalog of diverse voices and styles, which I deeply respect. The editing/publishing process was personal and intentional. I felt like I could participate fully as a creator and that my work was truly seen and cared for.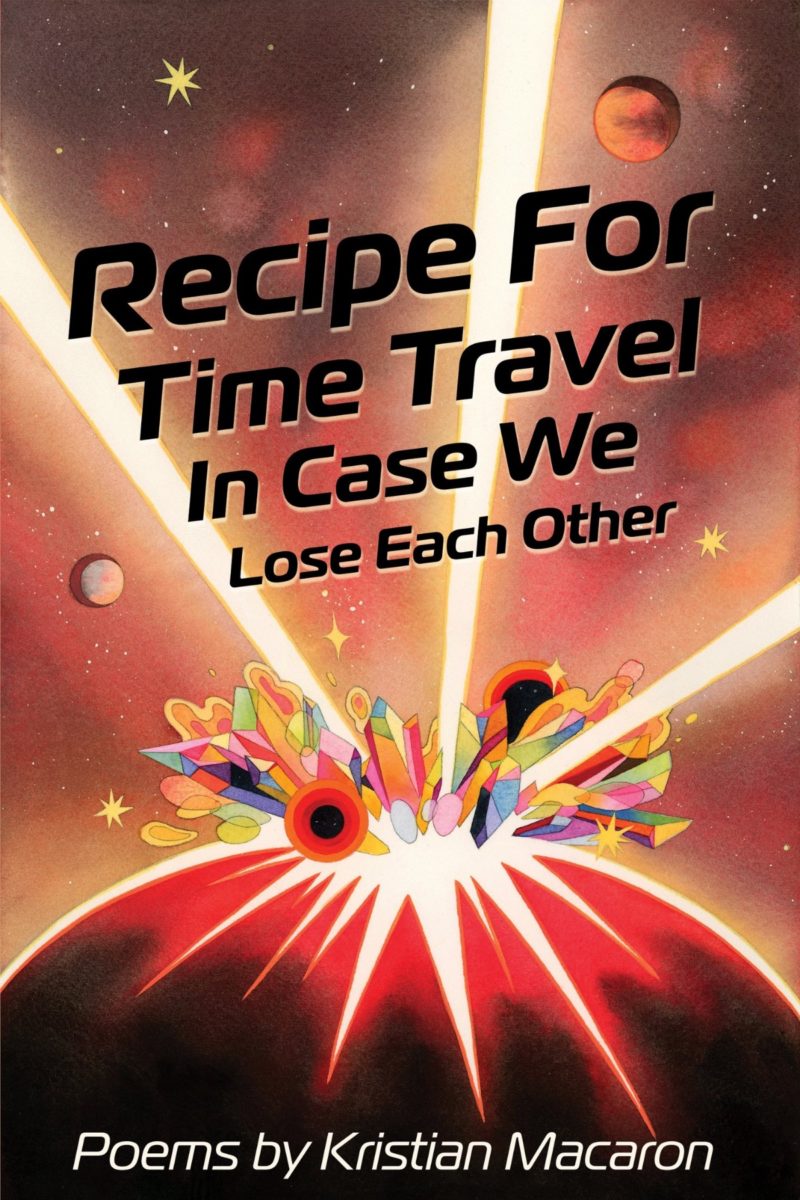 recipe for time travel in case we lose each other
snow or a snow globe
mars at the end of september
that wish I gave you
a map with both our footprints
if you can find one, a wave in a mountain
or a portal under the sea
cherry empanadas or red chile at christmas 
the way it feels to be still
halloween without candy or candles
a subspace highway without guardrails
or an unbound timepiece
your captured quest or my buried treasure
that bar that was falling apart around us
somewhere in the future
it is not the end of the world yet
---
Kristian Macaron (she/her) resides in Albuquerque, NM, but is often elsewhere. Her full-length poetry collection, Recipe for Time Travel in Case We Lose Each Other, was released from Game Over Books in February 2022. Her poetry chapbook entitled Storm was released from Swimming with Elephants Publications in 2015. Other prose and poetry publications can be found in The Normal School Magazine, Uncanny Magazine, Gargoyle Magazine, Asimov's Science Fiction & others. She is a co-founding editor of the literary journal, Manzano Mountain Review, a member of Theater-in-the-Making, and works at the University of New Mexico. View her work at Kristianmacaron.com