When did you first encounter poetry? How did you discover that you wanted to write poems?
My first encounter must have been with nursery rhymes, but my earliest recollection of poetry is of my mother reciting A.A Milne's "Disobedience," a poem that begins, "James James/ Morrison Morrison/ Weatherby George Dupree/ Took great/ Care of his Mother,/ Though he was only three." I was probably three at the time, and the poem's darker side, about the mother's disappearance, was certainly lost on me, disguised by the playful form (a first, subliminal lesson about the relationship between form and content?). I didn't really discover poetry, and decide I wanted to write poems, until ninth or tenth grade, through both English class and French class. We had a textbook in English class that included, besides Frost, Williams, Eliot, and the other high modernists, poems by Denise Levertov, Gary Snyder, Theodore Roethke, and many other living or recently dead American poets one wouldn't necessarily have been reading for school at that time (this was the early to mid-seventies). In French class we were reading poets like Baudelaire and Rimbaud, among others, though those were the two I connected with most fervently. Like a lot of literary minded teenagers of that era, I was also drawn to the Beats, and the first poetry reading I ever went to (in eleventh grade?) was one that Allen Ginsberg gave somewhere in Cincinnati, probably one of the universities. All of these poets, and others I'm forgetting here, showed me the way poetry can put the reader under a kind of spell, which made me want to write my own poems. There were no creative writing classes, but my teachers encouraged me, despite the fact that those first poems—now lost, thank God—were certainly very bad… though they did get me into Kenneth Koch's Imaginative Writing class when I was a freshman at Columbia.
Do you have a writing routine? A favorite time or place to write?
I don't really have a routine. I've always just waited for poems to come naturally, though this means enduring depressing periods when nothing is "happening." I have friends who write from prompts during dry spells, but I don't seem to be able to do that—it just feels too artificial. The one thing that does help is reading poetry, because it puts me back in that receptive zone of thinking like a poet. I do like to write in the morning hours, but they often get hijacked by other tasks. My desk tends to get covered with other things that distract me—bills, insurance claims, notes to myself about things I need to do. Several years ago my tiny office upstairs (more like a closet that happens to have a window) got so cluttered, that I retreated to a desk downstairs. But now that desk has gotten so cluttered that I'm thinking of sneaking back upstairs and hoping my clutter doesn't find out. Another solution, if I have some time and the weather is nice, is to go outside with a couple of poetry books and my notebook.
Where do your poems most often "come from"—an image, a sound, a phrase, an idea?
Where poems come from is sort of a mystery, since when one starts coming you pay attention to it rather than stopping to analyze its origins. I would say all of the above, adding to your list: memories that get triggered, encounters with people or the world, traumatic experiences one feels the need to explore, or simply seeing something beautiful and wanting to describe it in the hopes that the description leads to something more. Often a poem starts with some connection that happens in the mind, like a spark leaping between electrodes. But having an idea for a poem and being triggered to write the poem don't always come at the same time. In other words, there can be something I want to write a poem about—let's say an incident—but I can't write the poem until something else happens that allows me to find my way into the material. That could be a metaphoric connection, an image, or a lot of other things, but sometimes it's just an ordinary phrase to begin the poem with, an "angle of entry" that sends the poem on a particular syntactic and emotional trajectory. (Two examples would be the phrases "This is just to say" or "So much depends upon" in two famous short poems by William Carlos Williams. Another would be Eliot's "Let us go then, you and I" in "Prufrock." A very direct example would be John Clare's "I love," followed by a poem that is pretty much all description. In contrast, the angle of entry in Frost's "Directive" is much more indirect: "Back out of all this now too much for us.") If I'm not happy with the way a poem has turned out, or it doesn't seem to be working, sometimes a different angle of entry will come to me, a new opening phrase, and everything that follows will reorganize itself and perhaps lead to a different place. So, on the most literal level (i.e. on the page), a poem begins with a phrase.
Which writers (living or dead) have influenced you the most?
I'm going to include some of my teachers along with the poets whose work has inspired me. Picking up where my first answer left off, I continued studying the French poets in college, partly with a wonderful professor named Bert Leefmans, with whom I took a class on Baudelaire, and then another, a Comp Lit course, on Mallarmé and Hopkins. I was under Mallarmé's spell only for a while (and even foolishly tried to translate him), whereas Hopkins has remained important to me. (Bert Leefmans also gave me some of the best advice I ever received: Just write the poems that come naturally.) I also studied with Kenneth Koch and David Shapiro, and they were just what I needed at that point, when I had an enormous enthusiasm for poetry but still had a lot to learn. Their influence may not show much in my poems, but I think it is in there somewhere. Of course, they were members and champions of the New York School, and it's only a slight exaggeration to say that they tried to keep other contemporary poets secret from us student poets, as though no one existed except them, their friends, and their predecessors, who were anybody they liked. But they liked, and had us read, a lot of great poets—the Romantics, Whitman, Dickinson, Rilke, Pasternak, Apollinaire, Rimbaud, Pierre Reverdy, Yeats, Stevens, Williams, Pound, D.H. Lawrence, and many others. I took a Keats class with David, which had a big impact on me, and he also turned me on to Elizabeth Bishop, whose work was a major revelation. I started with her last book, Geography III, which was new at the time, and then read her earlier poems in the (incomplete) Complete Poems. What I loved about her was not just her wonderful gift for description but the way, when I read her poems, I felt as though I knew her and she was speaking directly to me. I soon realized this was what poets call "voice," a concept that had heretofore felt entirely abstract to me. Suddenly I knew what it was. I also read her before I'd read much of Lowell, Berryman, Jarrell, or others of that generation, which was sort of in reverse order as far as their reputations went at the time, and I always felt she was the best of them… and over the last twenty years or so, the rest of the world has come to agree. They weren't talking about her much when I went to grad school at Iowa in the mid-eighties, but I kept her as a kind of secret compass point as I navigated the influences of Marvin Bell, Gerald Stern, Jorie Graham, Stanley Plumly, and others. There are many other poets I love who have influenced me—Heaney, Frost, Larkin, the amazing cohort of American poets born around 1926 or '27 (Kinnell, Merwin, Merrill, Wright, and others). And other poets are always coming into play. During the years after my brother's suicide, I went pretty deeply into John Clare and Edward Thomas, two poets of different centuries who both feel very elemental and down-to-earth, and who helped me get back to my own writing, so I will always hold them dear. Despite this somewhat cumbersome answer, I'm certain I'm forgetting someone important.
What excites you most about your new collection? (Significance of the title? Overarching themes? Process/experience of assembling it?)
On the literal level the title Between Lakes refers to the lake in the Adirondacks where I've spent part of every summer since I was a child, and which is connected to another lake by a winding, streamlike channel. The first poem and the last poem in the book are about the lake, and there are several others scattered throughout. On a figurative level, I was thinking of liminal zones, and especially the one between the living and the dead and that feeling that someone who has died is still around somehow, through memory, dreams, or a kind of magical thinking. The title poem is about another kind of in-between state, between the self and the desire for self-forgetfulness, which I think is akin to what I mentioned earlier—the receptive mental zone that is conducive to writing poems and is itself an in-between state. All of life, of course, is a constantly shifting in-between state for each of us, between birth and death, full of joy, suffering, and everything in between.
The book is structured in four sections, the middle two of which—perhaps the backbone of the book—are about my somewhat complicated relationship with my father, his final illness and death, and the sense of loss afterwards. The first section contains poems of relative innocence in comparison, poems that try to convey or embody delight, beauty, or longing, whether in the world, in art, in daily chores, or in shared experiences that are, in turn, shared with the reader. I'm hoping that the final section feels like a sort of resolution, though an open-ended one with no final answers.
Sample poem from Between Lakes
HIGHER EDUCATION
Antioch, Berkeley, and Columbia
were the ABC's of colleges
my father said he wouldn't pay for—
breeding grounds for radicalism
he called them, as if their campuses
were giant Petri dishes spawning
toxic cultures. Our own pathology
was pretty toxic at the time, both of us
stubbornly refusing to learn
anything about each other, or
about ourselves for that matter, stuck
in a rudimentary pattern of
defining ourselves as opposites.
I wouldn't even look at Kenyon,
his beloved alma mater, despite
its long tradition as a school for
future poets. I hadn't read a word
of Robert Lowell or James Wright yet,
but I'd read Ginsberg, and the first stop
on my college tour was Columbia,
and that's where I ended up going.
And my father, to his credit, must
hav
e seen it was the right place for me
or at least was unavoidable,
so he let me go, and he paid for it.
And the only price I had to pay
was, when I was home on holidays,
to suffer his barbed commentary
about the very education he
was financing, which ironically
had to do with the core values of
Western Civilization. I can't
remember—is forgiveness one of them?
We both got a C in Forgiveness
but later bumped it up to a B minus
when, in a surprising twist, my son
ended up at Kenyon. My father
took real pleasure in that, though he
was already dying by then. I thought
of him at graduation, how proud
he would have been for his grandson
who, he might have joked, was a better
student than he had ever been—all
our ignorance put aside at least
for that one day of celebration.
"Higher Education" was first published in The Yale Review and later appeared in Best American Poetry 2017.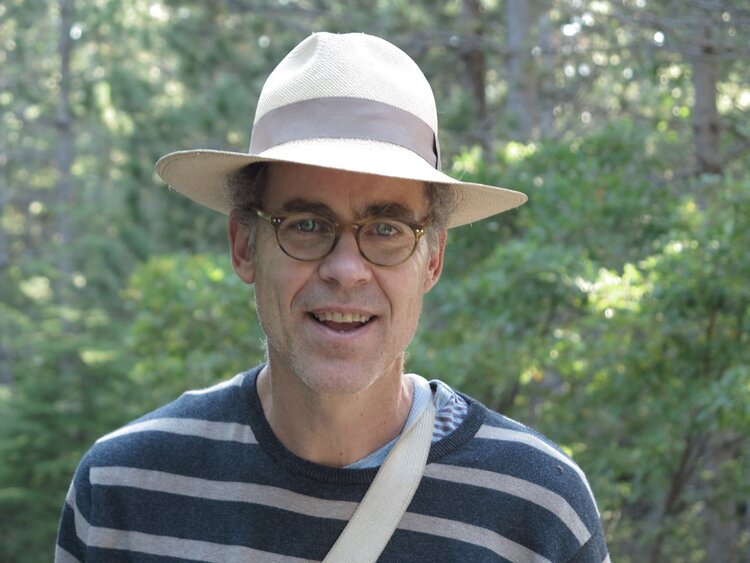 Jeffrey Harrison's sixth full-length book of poetry, Between Lakes, was published by Four Way Books in September 2020. His previous book, Into Daylight, (Tupelo, 2014) won the Dorset Prize and was selected by the Massachusetts Center for the Book as a Must-Read Book for 2015. Incomplete Knowledge (Four Way, 2006) was runner-up for the Poets' Prize, and Feeding the Fire (Sarabande, 2001) won the Sheila Motton Award from the New England Poetry Club. His first book, The Singing Underneath, was selected by James Merrill for National Poetry Series in 1987. He has received fellowships from the Guggenheim Foundation, the NEA, and the Bogliasco Foundation, among other honors, and his poems have appeared widely in magazines and anthologies, including Best American Poetry and The Pushcart Prize volumes, and been featured in Ted Kooser's column American Life in Poetry, The Writer's Almanac, Poetry Daily, and other online and media venues. He lives in Massachusetts and can also be found at jeffreyharrisonpoet.com.