Getting to Know Dianne C. Braley, Author of Unheard Whispers
When did you first encounter poetry? How did you discover that you wanted to write poems?
I received a journal as a kid, pink with a gold lock. I started writing, excited to recount the day, but it soon bored me and left me unsatisfied. I have always been an avid music lover as it brings out so much emotion, especially the 80's jams I was listening to at the time. I wanted to capture that somehow, so I began writing my thoughts more lyrically, which was incredibly satisfying. I had no idea that what I was writing was poetry. 
Do you have a writing routine? A favorite time or place to write?
I get up early and have to write before the day starts; otherwise, time will get away from me. I have also been practicing more mindfulness, and thanks to technology, while out on walks or moments of inspiration in my day-to-day life, I voice note thoughts that I am having on my phone as I observe my surroundings. This has led me to create much more.
Where do your poems most often "come from"—an image, a sound, a phrase, an idea?
Most come from feelings I've had at certain times in my life and the sights, sounds, smells, and people there. My work is usually very introspective, although in practicing mindfulness, I am trying to write in other ways that exceed the boundaries of me and my feelings. It's not always all about me, ha!
Which writers (living or dead) have influenced you the most?
Growing up in the inner city, art isn't always nurtured as much as it should be. Writing has always been a passion, but I put it on the back burner for a time. I went on to become a nurse, excited to help others while being able to pay my bills, although, in my heart, something was always missing. Later, moving to Martha's Vineyard, I began working for Pulitzer-prize-winning author William Styron who became my friend and motivator. Being around him and his world of creators surrounded by beauty inspired me to pick up my pen again, although now it's a keyboard.
What excites you most about your new collection?
What excites me most about Unheard Whispers, my collection of poems on growing up in an alcoholic home, is that part of the proceeds is going to the Robert F. Kennedy Community Alliance here in Massachusetts and their division that helps children and families affected by addiction. In the disease of addiction, so much funding and support go to the addicts themselves. While this is needed, the children of addicts often are forgotten. There is little support and even less education, and they have a much higher risk of becoming future addicts. We can do better. The kids need to know they are not alone and it's not their fault.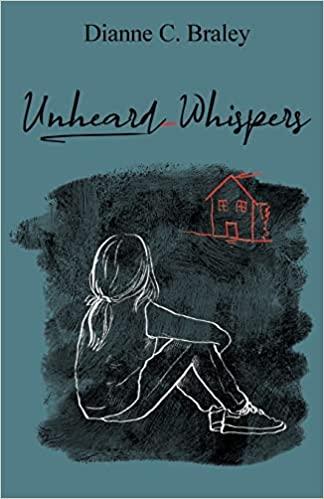 Stuck
In the dark, there are secrets. They hang in the air, stuck like flies on
limp tendrils of adhesive, whispered buzzing, begging for help. There
you sit—in the dark—in your secrets. Why do they strengthen at night?
We're so tired of pretending, hiding in the shadows—your family, your
children. You're our shadow, monstrous and suffocating. We are so small,
stuck in your mysteries—smothered by your substance. Bloodshot baby
blues turn to dust and are carried away in a gentle breeze. You're blessed
not to see the destruction. You're blessed again not to feel pain—our
buzzing whispers—your family, your children. Blind and numb, you sit,
oblivious to the shattered glass of our broken hearts.
---
A raw, gritty New Englander, Dianne C. Braley found love for the written word early on, reading and creating stories while trying to escape hers, growing up in the turbulent world of alcoholism while living in the tough inner city. After putting her pencil down for a time, she became a registered nurse finding strength and calm in caring for those who couldn't care for themselves. Still, she never lost her drive to write and did so, becoming published in various medical online and printed publications. Seeing a painting and remembering a visit to Martha's Vineyard as a girl and falling in love at first sight when her feet first felt the sand, she moved there for a time, caring for an ailing Pulitzer prize-winning novelist. He not only was her patient but soon became her friend and motivator. He and his books helped her realize she missed crafting stories and had some to tell.