Poets Laureate Across Massachusetts
A note from the interviewer, Alice Kociemba
Martha's Vineyard is a just short ferry ride from Woods Hole, a village of Falmouth. As a resident of Falmouth, I have been lucky enough to visit the Vineyard frequently. I have always come away impressed by the vibrancy and collegiality of its poetry community. Imagine a cadre of poets who volunteer to teach poetry for an entire week during National Poetry Month! This is just a sample of how poetry is woven into the island's daily life.
Jill Jupen, Martha's Vineyard's first woman Poet Laureate, gives her perspective on serving as the Island's fourth poet laureate. Here is Jill take on the position's challenges and pleasures:
---
Meet Jill Jupen, the Poet Laureate of Martha's Vineyard
In July 2012 the first Martha's Vineyard Poet Laureate (MV Poet Laureate) was selected by a panel of ten literary judges organized under the auspices of the Martha's Vineyard Poetry Society. Since then, the process has evolved. In each selection year, nominations for Poet Laureate are accepted from island poetry and art organizations: Cleaveland House Poets, Martha's Vineyard Poet's Collective, Martha's Vineyard Poetry Society, Featherstone Center for The Arts, and Pathways Arts. Membership in one of these groups is not a criterion for nomination.
Nominated poets are asked to submit three poems and a resume of previous work and publications, as well a brief statement that focuses on the candidate's perspective on "What is the Role of the Poet Laureate on Martha's Vineyard?" An independent selection committee, which consists of at least three members of the arts and literature community, a member of the Library staff, and at least one member of the community "at-large" make the final selection. Any poet 18 years or older who has been a year-round resident of Martha's Vineyard for the last two years is eligible for consideration. All poets must maintain residency for the term of appointment.
The Martha's Vineyard Poet Laureate (MVPL) is responsible for writing and presenting a minimum of one talk, lecture, or symposium on poetry per calendar year, which is to be presented at the Library or other appropriate public venue. The Poet Laureate will also provide assistance in the direction of activities for National Poetry Month in April. An annual stipend of $1,125 per year is provided for expenses related to the position.
The MVPL is encouraged to work with island media; poetry organizations; towns, schools, senior centers and libraries to further the public's appreciation of poetry on a local and global basis. The Martha's Vineyard Poet Laureate serves a two-year term.
I was the fourth laureate to be chosen, and the first woman. My term has been extended for a third year, due to Covid restrictions on gatherings.
It is a great honor to be chosen as Martha's Vineyard's Poet Laureate. Poetry, and the arts in general, are a big part of island life. Readings and workshops are given frequently and on a regular basis with much community participation. During National Poetry Month, an entire week is set aside for island poets to teach classes at the Martha's Vineyard Regional High school, culminating in a reading of both students and island writers who have taught classes.
My first year as Laureate, I conducted workshops at the island libraries, and brought two nationally known poets to the island to give readings. I also continue to lead the Martha's Vineyard Poets Collective, which has met every Thursday since 2011. The group's average membership is a dozen poets, many of whom have gone on to publish their own chapbooks.
Due to the reality of Covid, all workshops and readings during 2020 have been conducted virtually, which is not ideal. However, it is an important way of keeping poetry alive and an integral part of island life. My current projects include working on a two-part seminar on Bob Dylan's writing. I'm constantly listening for great metaphors in his music. In addition, I'm doing a few classes via Zoom on "Poetic Voice," and planning for an "outdoor day of poetry" this summer, if that looks promising.
My favorite question I've been asked about poetry is whether we all have the capacity to write. I believe we do, but setting aside time to do it on a regular basis is the crucial even if you end up not producing a poem on any given day. If you can't write a poem that day, go back to previous poems and revise and edit them. Even more importantly, read the work of other poets. Some people fear they will lose their own voice by reading others. On the contrary, reading the poems of others helps your brain think in a poetic way. This can only help people in their own writing practice.
If someone wishes to become more involved with poetry on the island, I would tell them to join a poetry group, attend workshops at island libraries, and most importantly, read the poetry of others. You can get a free education on the history of poetry and the present state of poetry. There are limitless poets to read and enjoy.
---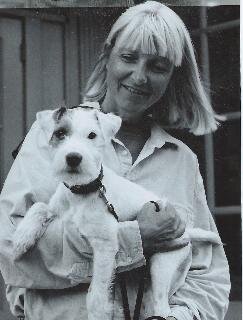 Martha's Vineyard Poet Laureate, Jill Jupen grew up in the Northeast Kingdom of Vermont and has lived on the Island for 20 years. She is the founder of the Martha's Vineyard Poets Collective, a group of 15 poets who meet each week at the Anchors Senior Center in Edgartown. She has held workshops at the Martha's Vineyard Regional High School and Island libraries. A Pushcart Prize nominee, she has published her poetry in numerous literary journals, including Green Mountain Review, Hunger Mountain, Dakota Territory, and Rattle. In 2018, Jupen won the Plan B Press poetry chapbook contest, which led to the publication of her chapbook "The Space Between." The chapbook was used at the University of Hong Kong seminar in a 2019 spring semester, titled "The Space Between: The Poetry of Loneliness."

Alice Kociemba is the Founding Director of Calliope Poetry for Community. She is co-editor of From the Farther Shore: Discovering Cape Cod and the Islands Through Poetry, which will be published by Bass River Press (an imprint of the Cultural Center of Cape Cod) in 2021. In 2015 and 2016, Alice guest edited Common Threads, the poetry discussion project of Mass Poetry. She is the author of the poetry collection, Bourne Bridge (Turning Point, 2016).