If I must wear a mask
by Deborah Leipziger
Let it be a mask of flowers
Violets and magnolia
Pansies, buds of all
kinds, wrapped around my ears
covering my lips
Let me smile in iris
Flower the first syllable
Previously published in Amethyst Review (June 2020).
Writing Prompt:
Write a poem about the mask(s) you wear. Even before the pandemic, we all have worn metaphorical masks. What does it feel like to take the mask off?   
Benediction
by Martha Collins
Not a story, they said, not even a line.
And there wasn't a line, there was a circle.
A perfect circle, though there were breaks.
But it wasn't broken, it was open.
It was open in the spaces between—
It was open in the spaces between them.
And they were like candles, giving light.
But the light came from the length of their bodies.
And they were like lilies, that opened their throats.
And as they opened they almost touched.
And they threw back their heads, and the circle widened.
And there was silence, but they were singing.
"Benediction" from Sheer. Copyright 2008 by Martha Collins. Reproduced by permission of Barnwood Press.
Writing Prompt:
Write a poem in which each line which is a complete sentence and, if you like, a complete stanza (that is: use line-spaces between the lines). Consider letting a word or words from one line appear in the next line, and so on, as a way of moving your poem forward. Think forward!
---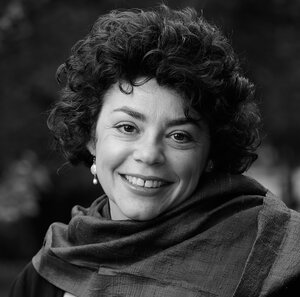 Deborah Leipziger
Deborah Leipziger is an author, poet and expert on sustainability. Born in Brazil, she is the author of Flower Map (Finishing Line Press, 2013). She is the co-founder of Soul-Lit, an on-line poetry magazine. Her poetry has appeared in Salamander, Amethyst Review, Soul-Lit, POESY, and Ibbetson Street Review, among others. She has written books on human rights and sustainability which have been translated into Chinese, Korean and Portuguese. She lectures around the world on topics related to sustainable business. Deborah is one of the founders of the New England Jewish Poetry Festival, now in its 11th year. A proud member of the Bagel Bards, she enjoys reading her poems at the Mass Poetry Festival and at Boston area bookstores, such as Trident and Brookline Booksmith. Her poetry is inspired by her travels, nature, her daughters, and cooking.
---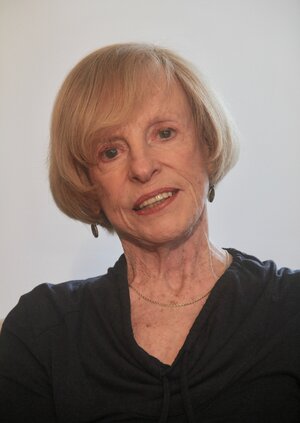 Martha Collins
Martha Collins' tenth book of poetry, Because What Else Can I Do (University of Pittsburgh Press, 2019) won the William Carlos Williams Award. Her previous volumes include Admit One: An American Scrapbook (University of Pittsburgh Press, 2016), White Papers (University of Pittsburgh Press, 2012), the book-length poem Blue Front (Graywolf, 2006), and the paired volumes Day Unto Day and Night Unto Night (Milkweed Editions, 2014, 2018). Collins has also published four volumes of co-translated Vietnamese poetry. Her other awards include an Anisfield-Wolf Award, three Pushcart prizes, and fellowships from the NEA, the Bunting Institute, the Lannan Foundation, and the Siena Art Institute. Founder of the Creative Writing Program at U.Mass.-Boston and former Pauline Delaney Professor of Creative Writing at Oberlin College, Collins currently lives in Cambridge, Massachusetts. Her website is marthacollinspoet.com