Reading series interview: Rozzie Reads
a conversation between Frances Donovan and Holly Guran, Co-organizer of Rozzie Reads
Does your series happen on a regular schedule, such as the second Tuesday of the month? If so, what is it?
Generally monthly September through June, and generally the fourth Thursday of each month. It's usually held in the library of Roslindale House, the old high school.
How did this reading series come about?
In the early 2000's, Marc Widershien started a reading series at what later became Emack and Bolio's which lasted several years. After Marc moved to Maine the readings stopped until members of the Friends of Roslindale Library—Jude Goldman, Phyllis Bluhm, Dorothy Derifield, Steve Babcok and Sara Singer—started them again at Emack and Bolios and at the library. Because Emack's went out of business, and because the library closes at 8 pm, a new venue had to be found. Adriana Cillo suggested Roslindale House which was an excellent location and the series has remained there ever since.
Did you develop it on your own, or do you collaborate with others?
There's a history of collaboration, although the initial series was started by Marc. Now a subcommittee of the Friends of Roslindale Branch Library runs the series: Holly Guran, Mary McCusker, Dorothy Derifield, Steve Babcock, Linda Burnett and Vivienne Shalom.
Are you affiliated with any organization such as a journal, a press, a school, or a bookstore?
Yes, Friends of Roslindale Branch Library.
What makes your reading series different from others?
It is similar in many ways, but the informality and open mic encourage new or inexperienced writers to share their work. It is a free reading with refreshments and time for socializing which seems to encourage attendance.
Who comes to your series?
We have an audience of about 25 to 45 attendees at each reading. We seek a diverse audience and invite a diverse selection of poets to read as features. We have had readers of all ages, from high school students to seniors in their 90s.
What upcoming featured poets are you really excited about?
All of them. This month Martha Collins and Nancy Naomi Carlson. We are just as excited when local area poets read.
Can you describe your physical venue? Is it wheelchair accessible?
The venue is the community room of a retirement home, thus it is comfortable, with heat in the winter, air conditioning in the warm months, and chairs with some padding. It is definitely wheelchair accessible.
Since you're online during the physical distancing measures due to the coronavirus pandemic, please tell me about your virtual venue and how people can access it.
We are experimented with a pilot in April and will be doing remote meetings via Zoom until things change. Anyone who'd like to come to future readings should email me at [email protected] – we'll send them the Zoom link before the reading. The next one is Thursday, May 28, at 7pm.
What can your guests expect when they arrive? Things like a cover charge, lines, or other helpful tips.
No lines, no cover charge. We do accept donations, entirely optional.
Are you aiming for a particular aesthetic or vibe with your featured poets?
Each poet reads for 20 minutes. The vibe varies greatly, from more traditional work to the experimental. One open mic reader raps to music on her iPhone. It's unpredictable what we'll hear each time, and I think the audience appreciates that.
If someone would like to be considered as a featured poet for your series, how should they go about inquiring?
It's a good idea to attend a reading first, then contact me at [email protected] with a short bio.
Do you have a mailing list or other way people can learn about your future readings? How can people sign up?
Join the Friends of the Roslindale Library ($5/year) and you will receive an email notice of each reading. Check our Facebook group. Check the Mass Poetry listings and Daniel Bouchard's listings.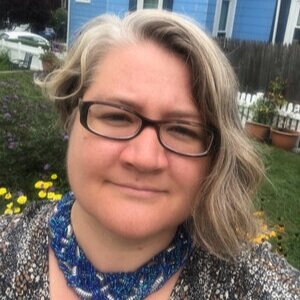 Frances Donovan's chapbook Mad Quick Hand of the Seashore (Reaching Press, 2018) was named a finalist in the 31st  Lambda Literary Awards. Publication credits include The Rumpus, Snapdragon, and SWWIM. She holds an MFA in poetry from Lesley University, is a certified Poet Educator with Mass Poetry, and has appeared as a featured reader at numerous venues. She once drove a bulldozer in an LGBTQ+ Pride parade while wearing a bustier. You can find her climbing hills in Boston and online at www.gardenofwords.com. Twitter: @okelle.