Interview with Doug Holder, organizer for Newton Free Library Reading Series
How did this reading series come about?
It goes back to the 1980s and maybe the 1970s. It started at the old Newton Library, and then moved to the new library at 330 Homer Street in Newton. Robert K. Johnson, a professor of English at Suffolk University ran it for many years–and then passed the baton on to me in 2002. In an anthology of readers the series put out in 1982 (Poems : A Celebration) there is an impressive lineup of poets. Martha Collins, Peter Davison, Ruth Whitman, Maxine Kumin, Sam Cornish, Joyce Peseroff. Llloyd Schwartz, Celia Gilbert, Fanny Howe, and others were included.
Many fine poets passed through here over the years.
Did you develop it on your own, or do you collaborate with others?
It was passed on to me. It had been developed a long time before I hit the scene. Robert K. Johnson helped me get started.
Are you affiliated with any organization such as a journal, a press, a school, or a bookstore?
For the past 10 years or so I have been teaching writing at Endicott College and Bunker Hill Community College. I also founded the Ibbetson Street Press http://ibbetsonpress.com with Richard Wilhelm and my wife Dianne Robitaille.
What makes your reading series different from others?
Well, we are probably one of the oldest series around, and the library gives us a great space at their Drucker Auditorium. We have a poetry festival in April, where we get prominent regional poets to read. The library pays each writer a stipend.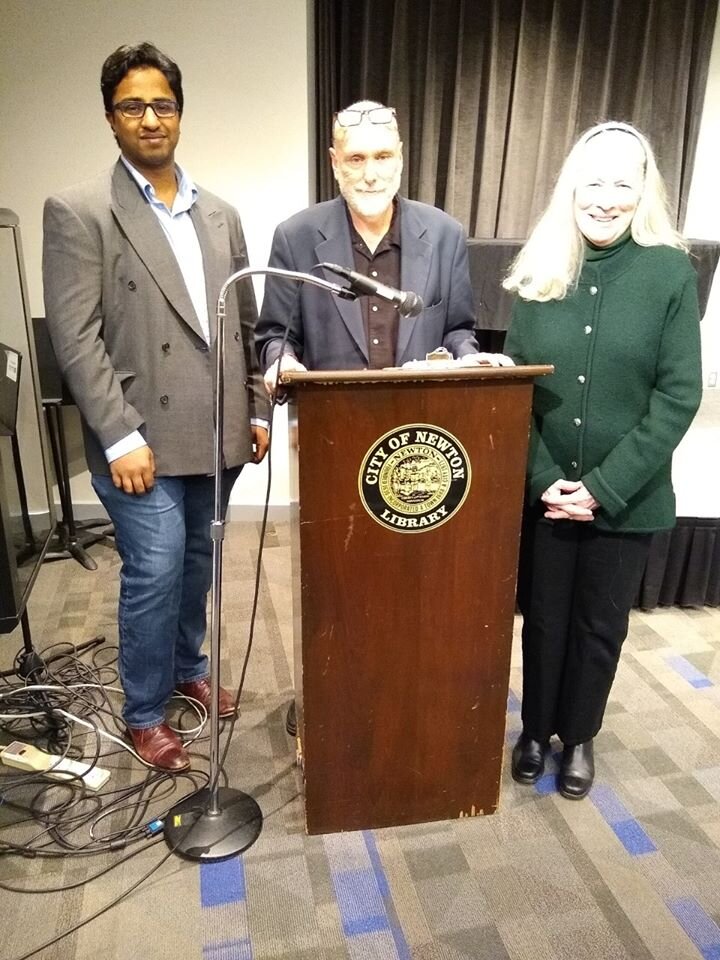 Who comes to your series?
Well we get a mixed crowd. Much of the audience is from the Newton/Brookline area–but people come from other areas as well–to hear the featured poets.
Can you describe your venue? Is it wheelchair accessible?
It is wheelchair accessible.
How does it work now that you've taken your series online?
The first virtual reading will take place Tuesday, September 8. You can register for readings through the Newton Free Library Virtual Events calendar. After you register, you'll receive a confirmation email, and then a second email later with the Zoom link and info.
Is there a cover charge?
No, it's free.
Are you aiming for a particular aesthetic or vibe with your featured poets?
Just good poets who can read well and draw an audience. You don't want someone up there who reads in a dull monotone. You also should be someone who will actively promote their reading–we like a full house of course!
If someone wanted to be considered as a featured poet, how should they go about inquiring?
I look for people who live in the Newton/Brookline area–but have booked others. Send two or three poems and a small bio to [email protected]
Does your series include an open mic? If so, is there anything poets should know before signing up for it?
Yes it does. It is after the featured readers. We allow open mic folks to read one relatively short poem. If you'd like to be included in the open mic, email me at [email protected]. First come, first served.
Do you have a mailing list or other way people can learn about your future readings? How can people sign up?
We have a website  http://newtonfreelibrarypoetryseries.blogspot.com   There you can find the schedule and bios of upcoming poets.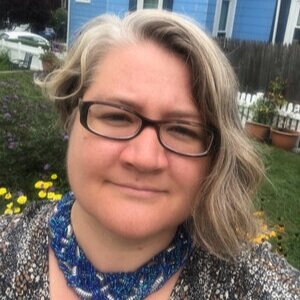 Frances Donovan's chapbook Mad Quick Hand of the Seashore (Reaching Press, 2018) was named a finalist in the 31st  Lambda Literary Awards. Publication credits include The Rumpus, Snapdragon, and SWWIM. She holds an MFA in poetry from Lesley University, is a certified Poet Educator with Mass Poetry, and has appeared as a featured reader at numerous venues. She once drove a bulldozer in an LGBTQ+ Pride parade while wearing a bustier. You can find her climbing hills in Boston and online at www.gardenofwords.com. Twitter: @okelle.