Below is our cohort of Mass Poetry-certified poet educators. All can be placed as a poet in residence for a semester or full year. Email [email protected] to access their materials including lesson plans and curricula to determine which poet is the best fit for your school.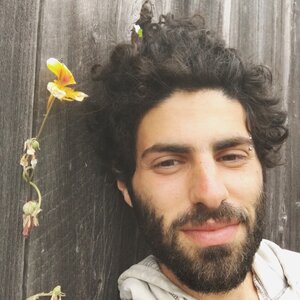 Josh Elbaum, currently in residence at Brookline High School
Josh has been performing poetry in and around Boston for the last 7 years. They are a member of the 2019 Boston Poetry Slam and have collaborated with artists of diverse mediums, including VLA Dance and Jen Epevary. They are also an educator, a musician, and a cat lover. They have poems published in The Shallow Ends and Maps For Teeth.
---
Usman Hameedi, currently in residence at New Mission High School
Usman Hameedi is a Pakistani-American scientist and poet. Since 2008, he has competed in and coached for collegiate, national, and international level poetry slams. Most recently, he was ranked 15th at the 2019 Individual World Poetry Slam and was invited to open the Final Stage Slam. He has been featured on Upworthy, Huffington Post, and the Story Collider: Storytelling for Scientists podcast.
---
Wendy Drexler, currently in residence at New Mission High School
Wendy Drexler is a poet living in Belmont, Massachusetts. She received her BA from the University of Pennsylvania. Her third poetry collection, Before There Was Before, was published by Iris Press in April 2017. She is the author of Western Motel (Turning Point, 2012), and a chapbook, Drive-ins, Gas Stations, the Bright Motels (Pudding House, 2007), which was nominated for a Pushcart Prize. She is a free-lance editor and has been a poetry editor for the Massachusetts Audubon Society. In 2016 she co-authored her first children's book, Buzz, Ruby, and Their City Chicks. In January, 2018, she completed certification training through Mass Poetry and Lesley University to become a poet in residence in the Boston public schools.
---
Anthony Febo, currently in residence at Edward M. Kennedy School
Anthony Febo is a poet, actor, youth worker, lover, and friend. He founded Mill City Slam, the adult slam poetry scene, and M.O.M.S., the Middlesex/UMass Lowell college slam poetry scene in 2010. Alongside his fellow partners in rhyme, in 2009 he founded FreeVerse!, a youth organization dedicated to expand the presence of spoken word in the city of Lowell. Febo has worked as a full time teaching artist at Inquilinos Boricuas en Accion (IBA) in Boston's South End. Currently he works with MassLEAP as poet in residence at Community Academy of Science & Health in Dorchester, as well as working for the Institute of Contemporary Art in Boston as a teaching artist and mentor.
---
Regie Gibson, currently in residence at Burlington High School
Regie Gibson is a poet, songwriter, author, workshop facilitator, and educator. Gibson and his work appear in the film Love Jones, based largely on events in his life. In 1999 he performed for the award-winning Traffic Series at Chicago's Steppenwolf Theater where he adapted the work of Kurt Vonnegut. In addition, he has performed at The Art Institute of Chicago, Chicago's Museum of Contemporary Art, Chicago Field Museum of Natural History, and many other venues. Gibson is widely published in anthologies, magazines, and journals, such as Power Lines, An Anthology of Poetry along with Pulitzer-Prize winning poets Gwendolyn Brooks, Yosef Komunyakaa, and Lisel Mueller. His first full-length book of poetry, Storms Beneath The Skin, was released in 2001.