Killer Fruit
by Emily Cooper
I.
God created the animal spirits,
the beasts, and then his man. Four legs
cleaved so two might reach in awe
for the heavens while two might tamp the earth
he came from.
II.
The serpent saw a lie
in the eye of God, knowing
the only thing the fruit would kill
was a question. He lost his legs
for the thought. Gut full of words,
he stirred the pot—as only he could.
Now he chokes on dust, when once
he was promised the bright embers
of a morning star.
III.
Derivative Eve—she too might have been created
as Adam, in her own right. Leave it to a man
to present her with a rib and not a rack
for fear she will devour too much of this world,
and then blame her when she hungers for more.
* Writing Prompt: Write a poem from the perspective of Eve and/or the snake in the Garden of Eden. Or, write from their perspective on the other side of exile. What were their motives? What thoughts/feelings drove them to risk the wrath of God? Were they misunderstood? Did they foresee the consequences, and, if they did, was worth it in the end? How does it compare to a difficult choice we must make in our lives?
Essential Coworker, August, 2020
by Joey Gould
for Jenn
ASMR, pumping the manual jack—
move with that weight on a string &
we unload the pallet
past each other's turned back laughing
listen to us haunted by a wounded movie character
listen to the watermelon if it's ripe
I would let you see the first slice its crystalized
sugar the aux cord that Pisces bowing us in a kitchen
& its garlic bread warm & did you require
a ripe case? A case cutter? Did you want
all my feelings about September birdwatching
the day after Frank died? From our home
store a slab of lamb & scotch our shared hearts
digress we're working the same 6 AM shift
right now listen the machete cuts a melon
& another color cuts a shiva or a 1st birthday
some food months starved so an angel
or a shoḥet it doesn't matter the knife
I thought I'd see your arms full of bread
during my eventual merciful death
here in the rabe & the edible aloe
from whence we came to a barstool
ashes to oranges to a screwdriver
& a battery glowing in the night
making it home before the storm
with a week's worth of food
* Writing Prompt: Who is an essential person in your life? What is essential to you? Write a poem in which you notice the constants in your life. The poem might travel to where you work or where you go to unwind. Write the quotidian images that never make it into your poetry: a forklift jacking up a pallet or the clink of dishes going into the dishwasher.
---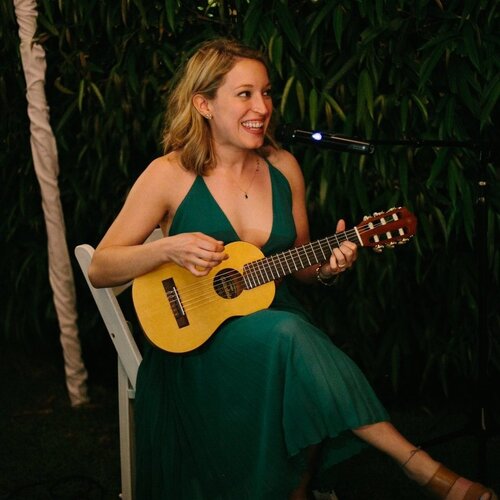 Emily Cooper
Emily Cooper has a Visual Arts degree from Bowdoin College, and is currently a working author, artist, musician, community activist, rotarian, and volunteer for Newhall Fields Community Farm in Peabody, MA. In 2019, Cooper published a book of poetry entitled, The Heart is a House and she is currently working on a second poetry manuscript and fantasy fiction. She and the team behind Newhall Fields work to strengthen the community by giving access to healthy food through sustainable agriculture, volunteer-powered farming, and community education. She is also working with nonprofit CultureHouse to create a free-to-enter public space for community gatherings, games, relaxation, play, creativity, and more for downtown Peabody. In all, she works to uplift her community through conversations and programs around poetry and the arts, sustainability, food justice, kindness, and the common good.
---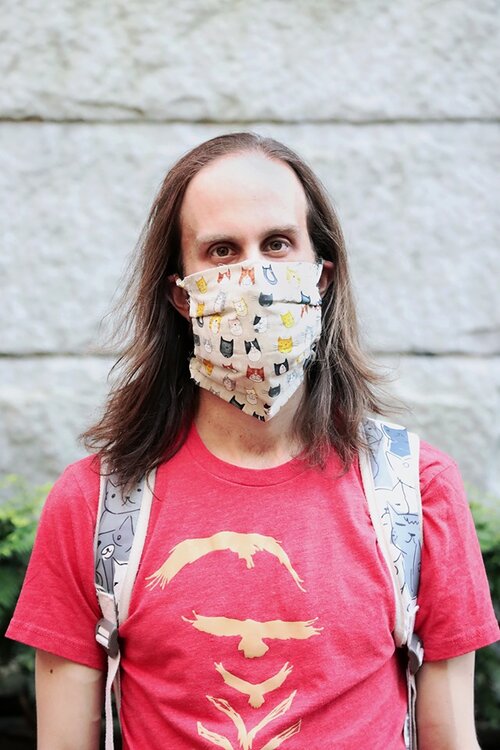 Joey Gould
Joey Gould, a non-binary writing tutor, penned The Acute Avian Heart (2019, Lily Poetry Review) & Penitent > Arbiter (2022, Lily Poetry Review). Twice nominated for Bettering American Poetry and once for a Pushcart Prize, Joey's work has appeared in Moonchild, The Compassion Anthology, Memoir Mixtapes, & District Lit. They also serve as Poetry Editor for Drunk Monkeys. Over the years, Joey has served as an event organizer for Mass Poetry, Salem Arts Festival, & Poetry Society of New York. They performed in a Poetry Circus & stage-managed events at Governor's Island, Peabody Essex Museum, & The House of Seven Gables.