Love in the Time of Corona
by Charles Coe
(with apologies to Gabriel García Márquez)
In ancient Greece, men shook hands
as a demonstration of good faith
to show they weren't armed.
In these days of fever and fear
we keep our distance, resist
the timeless call of flesh to flesh.
But the time will come again
to take the stranger's hand
embrace a friend, share a kiss.
Until then our cries for human touch
are dispatches from separate
battlefields, tied to passenger pigeons
we release into the restless night.
Previously published in the inaugural issue of Multiplicity (Spring 2020), an online literary magazine published by Bay Path University.
Writing Prompt:
Write about some form of grace you've experienced during the pandemic. An unexpected act of kindness or generosity. A reconnection with someone after a long silence. An interest or activity you'd set aside but have now rediscovered…
Corona Spring Bear
by Janet Aalfs
The word in the moon leads me.
The word in the work makes me.
Muriel Rukeyser
A black bear at the edge of bare
trees glanced our way.
We watched it turn and gallop
into the floodplain woods. Oh look!
It's practicing social distance,
someone strolling smiled and quipped,
long hair dark as el oso, white
yarmulke pinned to crown
like the full spring moon reflecting down
no one can touch
the beginning of
light that intertwines, shape by shape
start to finish every body stitched
to every other one, a web.
Shadows that grow before and after longer
shorter weave and further weave we can't undo.
If not this time, then when?
If not this chance, then what
chance will we have
to open out somewhere
in grace we can't imagine yet
but we must
imagine it
as if we have known forever
moon
witness
bear
Writing Prompt:
Ask questions such as "What am I afraid of? What do I want? What do I need to do to keep moving through into deeper terrain?" Continue asking. Consult the ancestors. Hope's hard work is persistent joy, compassionate witness, conjure and magic, the impossible becoming more possible. Imagine that this wonderful world full of hope can shift, transform, and flourish one brave question at a time. Let the poem, a site for revelation, break your heart open to further healing and discovery.
---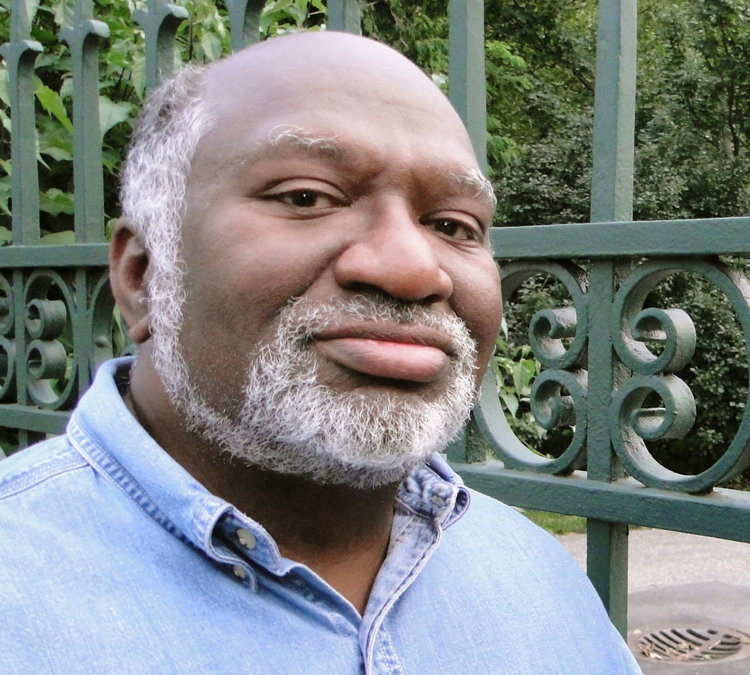 Charles Coe
Charles Coe is the author of three books of poetry: All Sins Forgiven: Poems for my Parents (2013), Picnic on the Moon (1999), and the just-released Memento Mori (2019), all published by Leapfrog Press. Charles is also author of Spin Cycles (2014), a novella published by Gemma Media. He was selected as a Boston Literary Light by the Associates of the Boston Public Library and is a former artist fellow at the St. Botolph Club in Boston. Charles was a 2017 artist-in-residence for the city of Boston, where he created an oral history project that focused on residents of Mission Hill. He is poetry editor of Multiplicity, an online literary journal.
Charles has served as poet-in-residence at Wheaton College and at the Chautauqua Institution in New York State and is an adjunct professor of English at Salve Regina University in Newport, Rhode Island, and Bay Path University in Longmeadow, Massachusetts, where he teaches in both MFA programs.
---
Janet Aalfs
Janet Aalfs has been creating sites for revelation through integrative arts education and performance since 1977. Her work is about transforming energy through creative arts, and is a form of meditation, prayer, and respectful cultural exchange. She continues to learn about and to deepen and expand her awareness of everyday sacred connections among human beings and all aspects of life. Her main art forms include poetry/spoken word, Taiji/Qigong, Karate, Filipino stick arts, interpretive dance, self-protection/self-care healing methods, and improvisational weaving of various techniques. A 7th degree black belt and master instructor of Jian Mei internal arts, poet laureate of Northampton, MA (2003-2005), and founder/director of Lotus Peace Arts at Heron's Bridge (www.heronsbridge.org), she has been working in community her entire adult life as an arts activist with a focus on feminist social justice and cultural liberation. She has traveled all over the world doing this work, including as a performing arts educator during a U.S./South Africa exchange program with a diverse group of artists in western Massachusetts and in Cape Town, South Africa. Her poems and essays have been widely published, and she has been a featured performer, presenter, and workshop facilitator at many conferences, festivals and special events locally, nationally, and internationally.