Hard Work
by Kathleen Aguero
Hope springs eternal, but
I couldn't imagine how
hope, before it gets to that bubbling place,
forces itself through miles of dirt packed hard,
then around, over, under rocks,
willing itself not to dry up in the desert
or to merge with the sewer of a city street,
waiting for frozen prairie to thaw,
resisting the warm and mindless absorption
of mud, moss, sand, swamp
until it finds the small trembling
where, welcome or not, it gathers the last of its strength
and breaks through to the surface
the way a laboring woman, stinking,
exhausted, summons one last grunt and push
to force the baby into the world
where it takes its first, sharp breath.
I bow my head to the hard work of hope.
I let it place its dull and heavy hand upon my neck.
I submit to its dour blessing.
I give up. I begin
its thankless, necessary pilgrimage.
Writing Prompt:
Write a poem in which the first line is a saying, proverb etc. (example—"Laughter is the best medicine," "A stitch in time saves nine") and the second line begins with "but."
I Examined the Moment
Meia Geddes
I examined the moment for fractures, for signs that the moment would not hold.
I examined the moment in order to determine how much of it was mine, and for how long.
I examined the moment only to realize it might actually be more than a moment, maybe part of one larger moment.
I whispered to and shouted at and caressed the moment, pushed and pulled.
But the moment held, still and steady, with a heartbeat all its own.
It told me to go on to the next moment, and that it would soon be gone.
So I did move on to another moment, and then another, though I knew I had fallen in love.
Writing Prompt:
Examine a moment and see what you find out.
---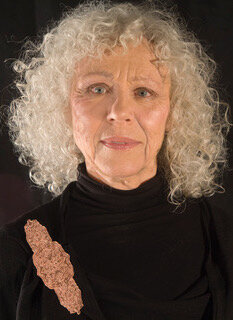 Kathleen Aguero
Kathleen Aguero's latest book is After That (Tiger Bark Books, 2013). Her other poetry collections include Investigations: The Mystery of the Girl Sleuth (Cervená Barva Press, 2008), Daughter Of (Cedar Hill Books, 2004), The Real Weather (Hanging Loose Press, 1987), and Thirsty Day (Alice James Books, 1977). She has also co-edited three volumes of multi-cultural literature for the University of Georgia Press. She teaches in the low-residency M.F.A. program at Pine Manor College and in Changing Lives Through Literature, an alternative sentencing program as well as conducting Creative Writing Workshops for Caregivers.
---
Meia Geddes
Meia Geddes loves the moment with all her heart. She can be found @meiageddes.